T H E C O R N E R S T O N E C A B I N
~ Ashford Lodging at Mt. Rainier ~
HOME | PHOTOS | AMENITIES | PRICES | POLICIES | RESERVATIONS | AREA | LINKS | SPECIALS
CONTACT INFORMATION:
The Cornerstone Cabin
Rick & Theresa Cooper
Cabin Address (not mailing address)
38029 SR 706 E
Ashford, WA 98304

253-232-2436 Rick text/cell
253-226-2433 Theresa text/cell
info@thecornerstonecabin.com

Check your dates for Availability
View of the cabin from the west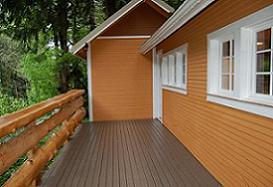 Deck
Marshmallow roasting pit
Hot tub under the trees

Cabin in December
THE CORNERSTONE CABIN ~ at Mt Rainier
Cabin rental policies:
Check in/out:
Check in time: 5 p.m. or later
Check out time: before 12 noon
*Please make sure to check out by your contracted time as a courtesy to the next person checking in and our cleaning staff. Late departures will incur a $250.00 late departure fee.
**Your reservation confirmation is your contract. Notify us immediately if you need any changes.

Season ~ Minimum Stays:
Peak season is Memorial Weekend thru Labor Day plus *Winter Break (*last two weeks of December.)
This cabin available for rent with a two night minimum stay for weekdays/weekends during non-peak season and three night minimum stay for most holidays, all of July and August. Special rates for 7+ consecutive night stays and we always offer a Military Discount. Please email or call for details.

NO PETS:
Due to the comfort of all our guests, severe allergies, and the native wildlife, we have a strict no pets policy inside or outside the cabin. We do not allow dogs of any kind. Please respect this rule. Otherwise, you will be required to vacate immediately without a refund.
Smoking Policy:
No smoking in cabin, hot tub, or on deck. Because we are surrounded by natural forest and old growth timber, please take care to only smoke in designated area on the concrete, or at the marshmellow roasting pit, and carefully dispose of all used cigarettes.
Children:
All children are welcome! Please see photos of ladder and staircase on this website to help in your decision making to see if this is suitable for your children.
Reservations:
To reserve the cabin we require payment in full in advance and use PayPal for credit/debit cards, or you may reserve on VRBO.com. You will need to confirm that you want to go forward and reserve the nights, and then we will send the invoice to your email address. We will then hold the dates a few days to allow you time to pay by credit/debit card on the secure PayPal account. You don't need to be a member or have an account with PayPal.
Cancellations:
~ To receive a full refund, cancel up to 1 month prior to reserve date check in time.
~ There will be a 50% refund if cancelled less than 1 month but greater than 2 weeks from check in date/time.
~ No refunds for cancellations less than 14 days prior to check in date, early departure, snow, or power outages.
CURRENT SPECIAL
Contact Information
Check your dates for Availability
Arbonne - pure ~ safe ~ beneficial Vegan nutrition, skincare, haircare and makeup. Website for more info on these Vegan products.
Back to top of page