T H E C O R N E R S T O N E C A B I N
~ Ashford Lodging at Mt. Rainier ~
HOME | PHOTOS | AMENITIES | PRICES | POLICIES | RESERVATIONS | AREA | LINKS | SPECIALS
CONTACT INFORMATION:
The Cornerstone Cabin
Rick & Theresa Cooper
Cabin Location (not mailing address)
38209 SR 706 E
Ashford, WA 98304

253-232-2436 Rick cell/text
253-226-2433 Theresa cell/text
info@thecornerstonecabin.com

Check your dates for Availability
Bear Cub Room Queen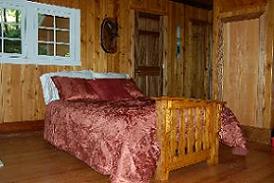 Futon made into a full size memory foam bed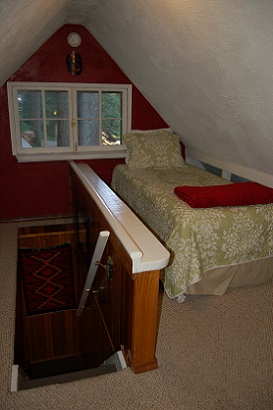 Bear Cub Room Single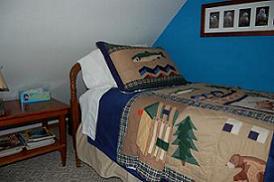 Owl's Roost Room Single
Kitchen
Tiled bath with shower & Jacuzzi tub
Main Living Area
View of the cabin from the National Forest
THE CORNERSTONE CABIN ~ at Mt Rainier
ACCESSIBILITY
During the 2006 renovation, concrete drive & sidewalks were constructed to flow to the front deck without steps. The exterior entry door opening to the mudroom was enlarged, as was the entry from the mudroom to the living room area. The door opening to the bath has also been enlarged, and a lower cabinet in the kitchen removed for better accessability there as well. The bath tub and toilet each have a grab bar mounted for easier use. The living room has a futon that is easily converted to a full size bed. On the lower level there is a small step from the living room to the bath.
Not as accessible: The main bedroom retains its original 1923 constructed smaller opening, and has a small step as well. The other two bedrooms are accessed by a ladder and a staircase. The hot tub is accessed by steps.
LIVING ROOM
The main living area has a cozy old stone fireplace with woodstove insert, and a custom built beautiful rough sawn cedar mantle constructed from one of the windfalls. The old rustic fir floors have been refinished, flaws and all. There is a comfy reading area right across from the fire, with a small collection of books for your enjoyment. If you prefer to watch movies, there is a flat screen TV and Blu-ray player with a large collection of DVD's for your entertainment. The futon sofa easily converts to a full size upgraded memory foam bed!
KITCHEN
The Kitchen was fully remodeled in 2006 with new countertops, sink and base cabinets. Available for your use are a microwave, glass top range and full size refrigerator. The cabinets are stocked with a coffee maker, coffee grinder, waffle maker, can opener, toaster, blender, crockpot, corkscrew, pots, pans, bakeware, dishes, cups, glasses and silverware for your use. Complimetary coffee, tea, hot chocolate, hot cider, microwave popcorn, waffle mix, and syrup are included.
DINING AREA
In the dining area you will find a full size oak table with 6 comfortable chairs around the table, with 2 extra chairs in the master bedroom. The dining table has an extra leaf that is kept in the closet next to the bathroom, if not in the table.
MAIN BEDROOM
Enter through the original rustic door, to a beautiful view of giant old growth trees out the west window, with more great views out the south window as well. This queen sleigh bed faces the windows for the tranquil view. This roomy bedroom is right off the living room with rustic refinished fir flooring.
THE BEAR CUB ROOM
The Bear Cub Room, has one roomy queen bed and one comfy single bed in this upstairs bedroom. The cubby holes along both sides of the room, contain baskets with some board games, a small assortment of toys, extra books (including area hiking books!), and extra floor pillows. The room has wall to wall carpeting. Due to the open staircase, this room may not be suitable for very small children.
THE OWL'S ROOST
In the Owl's Roost sleeping loft, there is an additional comfy single bed. This room is accessed by a beautiful handmade fir ladder of oversize, heavy duty construction. Check out the view from this window! Deer like to ramble on this end of the house. This room may not be suitable for very small children due to the open loft construction.
BATH
The tiled bath sports a jetted bathtub, plus shower, with grab bar mounted for extra safety. Renovated in 2006, the cozy bath also boasts a pedestal sink with matching commode. The skylight is wonderful for viewing the old growth trees while bathing! A hairdryer is available for your use, along with the complimentary soaps, lotion, shampoo & conditioner. (We also try to keep a stock of extra toothbrushes, Q-tips & disposable razors just in case you forgot yours.)
MUD ROOM
This tiled entry is great for rainy/snowy days, with room for wet coats, boots, plus storage for sleds, snowshoes, backpacks and the like. Also contains a washer and dryer for your use. (We also try to keep some laundry detergent on hand for your use as well.)
OUTDOORS
Located beneath the old growth trees, is a luxurious hot tub with a view of the forest, the wandering deer, an occasional raccoon and other small wildlife. The beautiful slab cedar railed front deck has lounge chairs for your resting pleasure and a BBQ. In the yard you will find a table and chairs near the BBQ, plus there is a picnic table near the marshmellow roasting area, plus a horseshoe pit and hand made cedar slab dart board!
SLEEPING ACCOMODATIONS
There are two queen beds and each are covered in luxurious 600 thread count pima cotton sheets. The full size futon has soft 400 thread count egyptian cotton sheets. Plus there are two twin beds covered in comfy 300 thread count cotton sheets. Every bed has cozy soft blankets plus warm comforters or colorful quilts. We replace our bedding often so sometimes the photos do not match the new quilts. All beds have extra thick mattress covers, plus the single beds have memory foam toppers for additional comfort. There are also extra pillows and blankets for each bed.
CURRENT SPECIAL
Contact Information
Check your dates for Availability
Arbonne - pure ~ safe ~ beneficial Vegan nutrition, skincare, haircare, and makeup. Website for more info on these Vegan products.
Back to top of page